The May edition of our Disability Led Family Days is curated by artist, facilitator and advocate Amy Claire Mills and sees Amy and a group of artists and contemporaries take over White Bay Power Station with a series of works, including an interactive installation, a participatory workshop, and a performance including:
Soft Sculptural Picnic – Completely transforming the White Bay Program Space, Amy Claire Mills invites audiences into a world of sensory exploration, creativity, and mindfulness with a soft sculptural picnic installation. Through a combination of textures, colours, and forms (imagine oversized flowers, fruits, sandwiches, sweet treats and more), this immersive and interactive experience invites tactile and visual engagement, creating a safe and comforting space for audiences to embrace and explore through sensory play.
Textile Workshop – Led by artist EmmaRani Hodges, children and families will be able to drop into a textile workshop/craft station where will be given a piece of fabric and then told to recall a person, place, object, memory or action that makes them feel safe. They can then embroider, collage, paint or draw on their fabric, which will then be sewn into a quilt that grows as a communal artwork throughout the day, exploring our essential human needs and pursuit of comfort.
Roving Performance – Dressed in joyous costumes matching the soft sculptural installation in the Program Space, artists Amy Claire Mills, EmmaRani Hodges and Bedelia Lowrenčev will together perform a lively movement piece that travels through the architecture of White Bay culminating on the Boiler House Indoor Stage.
The Family Days for the 24th Biennale of Sydney have been developed through a guest curator model with a number of leading Disability Arts organisations and practitioners. In 2024, our Family Days will centre the work and perspectives of artists with disability, creating accessible works, performances, and installations for all audiences.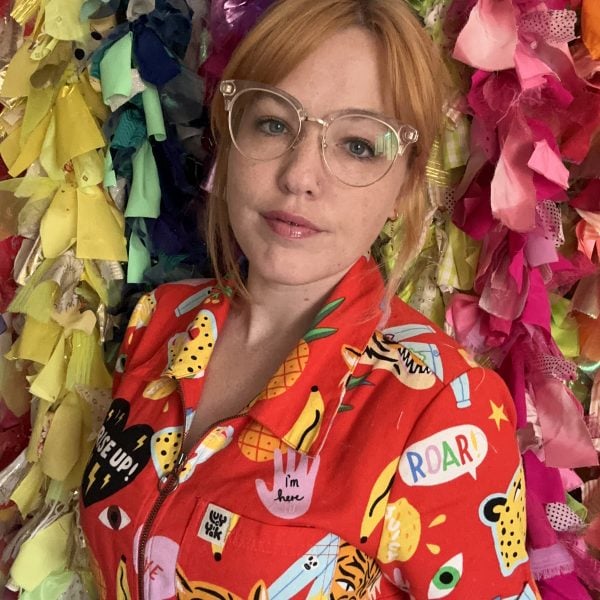 Amy Claire Mills is an artist whose multi-artform practice includes installations, performance, textiles and more. Using a palette of bold, vibrant colours and warm textures her works often explore the politics of disabled women's bodies, challenge internalised biases, and deconstruct ableism, all with a powerful aesthetic and ever-present sense-of-humour and play. As a curator and facilitator she is particularly interested in creating space and works accessible to neurodivergent audiences.