About Us
The Biennale of Sydney acknowledges the Traditional Owners of Country, in particular the Gadigal people on whose land the Biennale of Sydney is located. We recognise their continuing connection to land, waters and culture and pay our respect to Elders, past, present and emerging.
The Biennale of Sydney is one of the leading international contemporary art events. It plays an indispensable role in Australia's engagement with the world, and a meaningful role in the life of the nation. The Biennale presents the most dynamic contemporary art from around the globe in venues across Sydney with exhibitions that ignite and surprise people, sparking dialogue, cultivating connections and inspiring action through meaningful, shared arts experiences. The Biennale of Sydney amplifies the voices of artists and tell the stories of our global communities, as they drive momentum for lasting cultural change.
Established in 1973, it is the third oldest biennial in the world after Venice and São Paulo and the largest exhibition of its kind in Australia. The Biennale of Sydney has commissioned and presented exceptional works of art by more than 2,000 national and international artists from more than 130 countries.
The 24th Biennale of Sydney will take place 9 March – 10 June 2024.
Board of Directors
Kate Mills (Chairman)
Kate Mills MAICD FIML is an experienced company director, commercial lawyer, policy adviser and consultant on corporate governance and strategy. Kate was a Founding Director of the Inner City Legal Centre Foundation, the Creative Music Fund, and a board member of the Refugee Advice & Casework Service. Kate is a member of international and national visual and performing arts institutions, and an avid collector.
Geoffrey Cassidy (Deputy Chairman)
Geoffrey Cassidy is an experienced arts administrator and expert in Australian and International Art. Presently the CEO of herringbone Fine Art Systems and Transport, He is a former Director of Sothebys Worldwide and the former Director of Artbank, The Federal Government Arts support initiative. As such he has broad experience in both the commercial and institutional aspects of the Art world. He believes in the relevance and importance of art to national identity, and specialises in art curation, advisory and arts management. In another life Geoffrey was also a supporting solicitor in the Queensland Native Title Unit, where he assisted on major litigation to determine the effect of pastoral leases on Aboriginal land rights.
Ruby Langton-Batty (Company Secretary)
Ruby Langton-Batty is a graduate of law (UNSW) in training to become a solicitor and currently working as a paralegal at the Paul Ramsay Foundation in Sydney. She has a Bachelor of Production Design from the Victorian College of the Arts and worked as a professional stage and screen designer prior to studying law. She has a diverse experience in editing, writing, research, entertainment and media with a passion for all forms of art. She was born in Alice Springs and is a descendant of the Bidjara and Yiman people in Central Queensland.
Matt Crocker
Matt Crocker is a leading public policy professional. As Policy Director for three NSW Premiers over the last decade, Matt has developed unique expertise in government, policy development and strategy. In the corporate sector, Matt was COO of health insurer Manchester Unity and has been a senior advisor on public policy and corporate reputation issues for Westpac. Matt now works on infrastructure project development at Plenary Group and is a strategic advisor at University of Technology Sydney, and a Director of the Sydney Institute of Marine Science.
Danielle Earp
Danielle Earp is currently the Senior Exhibitions Manager at the Art Gallery of New South Wales. Her managerial and directorial experience spans two decades working for visual arts and cultural organisations including; Art Gallery of NSW, Sydney Living Museums, Biennale of Sydney, Sherman Contemporary Art Foundation, Sherman Galleries and 4A Centre for Contemporary Asian Art.
Johanna Featherstone
Johanna Featherstone is the Founder and former Artistic Director of Red Room Poetry where she established a national poetry education program for schools and correctional centres in New South Wales. Her poetry has been featured in a range of journals and anthologies, and she is currently Director of the Oranges & Sardines Foundation and on the Belvoir board. Johanna is an honorary associate of the University of Sydney's School Arts and Media and has judged a number of awards including the NSW Premier's Literary Awards and JB Fairfax Award for Rural and Regional Journalism.
Anne Flanagan
Anne Flanagan, former deputy director of the Art Gallery of New South Wales, is one of Australia's most respected art museum leaders. During her 23 years at AGNSW she was responsible for exhibitions and major capital project delivery including Yiribana gallery for Indigenous art, the Asian gallery expansion, John Kaldor Family Gallery and the masterplan for the Gallery expansion. She is a director of Bundanon Trust and a member of the project control group for Sydney Modern, AGNSW.
Evan Kaldor
Evan Kaldor is CEO of The Parent Brand, Australia's leading digital media company focused on families from pregnancy to preschool. The Parent Brand produces written, video and audio content across the Babyology and Kinderling brands. Evan was the General Manager of FBi Radio, a non-profit community radio station in Sydney focused on supporting local bands and artists, and has a background in investment banking, where he worked for Merrill Lynch, Morgan Stanley and Grange Securities, both in Australia and the US.
Adelle Robinson
Adelle Robinson is a descendant of the Wiradjuri people and has over 20 years' experience producing some of Australia's largest music festivals including Field Day, Harbourlife, Shore Thing and Listen Out. Having worked across Australia's most unique and sensitive venues Adelle has led the way for best practise in event management and event stakeholder liaison. As Chair and committee member of the Australian Festival Association Adelle has worked as member of the NSW Music Festivals Regulatory Round Table and she gave evidence at the 2019 Parliamentary Inquiry in Music Festival Regulation. Adelle is currently undertaking a Graduate Certificate of Wiradjuri Language Culture and Heritage through Charles Sturt University.
James Roth
James has over 30 years' experience in accounting and finance working with Deutsche bank, UBS, Schroders and Arthur Andersen. He is a Director of Craig's investment partners in New Zealand and is currently a patron of the Asian Australian Artist Association as well as a member of the Asian Art Archive.
Khaled Sabsabi
Khaled Sabsabi is an acclaimed contemporary artist who works across borders, cultures and disciplines. He has exhibited in over 80 solo and group exhibitions in Australia and internationally, showcasing his work in the 9th Shanghai Biennale (2012), Sharjah Biennial 11 (2013), 5th Marrakech Biennale (2014), 1st Yinchuan Biennale (2016), 3rd Kochi Muziris Biennale (2016) and Adelaide Biennial of Australian Art (2018). Sabsabi was awarded the Helen Lempriere Travelling Art Scholarship (2010), 60th Blake Prize (2011) and the NSW Government's Western Sydney Arts Fellowship (2015). Sabsabi migrated from Tripoli, Lebanon to Australia as a child in 1977. He holds a Master of Fine Arts from the University of New South Wales.
Morry Schwartz AM
Morry Schwartz AM is the founder of Schwartz Media, publisher of the influential The Saturday Paper, The Monthly, and the Quarterly Essay. Morry began his publishing career at the age of 23, when he began Outback Press, publishing poetry and fiction. In a career spanning 40 years, Morry has built a reputation for publishing the highest quality journalism in the country, earning him a place in the Australian Magazine Award's Hall of Fame in 2018.
Rachel Verghis
Rachel Verghis is a contemporary art patron, collector, entrepreneur and founder of VerghisArt, a platform focusing on artists from the Asia-Pacific region. Rachel is also a member of the Tate's AsiaPacific Acquisitions Committee, the Australian Venice Biennale International Council, the Sherman Centre for Culture and Ideas, a patron of the Serpentine Gallery in London and soon to join the MCA Foundation Council.
Chris Wirasinha
Chris Wirasinha is the co-founder of Pedestrian.tv, Australia's largest youth focused publishing brand. Chris co-founded Pedestrian in 2005 when he was just 22 years old. Pedestrian.tv won back-to-back Mumbrella Media Brand of the Year Awards and is Australia's most successful digital publishing startup. Prior to co-founding Pedestrian, Chris worked at global media and advertising agency Universal McCann.
Committees & Advisors
Benefaction Committee
Johanna Featherstone (Convenor)
Emilya Colliver
Ruby Langton-Batty
Emma Perera
Khaled Sabsabi
Alyce Tran
Rachel Verghis
Finance, Audit, Risk & Compliance Committee
James Roth (Convenor)
Anne Flanagan
Geoffrey Cassidy
Adelle Robinson
Artistic Director Search Committee:
Anne Flanagan (Convenor)
Brook Andrew
Dr Michael Brand
Johanna Featherstone
Alexie Glass-Kantor
Liz Ann Macgregor
Barbara Moore
Khaled Sabsabi
Morry Schwartz AM
Digital & Programming Committee
Evan Kaldor
Chris Wirasinha
Tea Uglow, Digital Advisor
Tea Uglow (Digital Advisor)
For over ten years, Tea Uglow has worked with various artists and cultural organisations, investigating the intersection between technology and the arts. She is currently creative director of Google Creative Lab in Sydney and in 2018, Tea was recognised as one of Australia's #OUT50 LGBTQ Leaders by Deloitte. Tea has also served on the board for the Australasian Writers & Art Directors Association and the Design & Art Directors Guild.
Our People | 24th Biennale of Sydney
Barbara Moore, Chief Executive Officer
Charlotte Galleguillos, Deputy Director
Belinda Wincote, Executive Assistant to the CEO
Cosmin Costinaș and Inti Guerrero, Artistic Directors
Tim Barker, Head of Production
Sep Pourbozorgi, Production Manager
Julia Greenstreet, Exhibitions Manager
Deborah Jones, Registrar
Gotaro Uematsu, Audio Visual Manager
Noah Bennett, Production and Event Coordinator
Fredrika Mackenzie, Exhibition Coordinator
Alicia Hollier, Exhibition Coordinator
Aishlinn McCarthy, Head of Communications
Erica Em, Digital Communications Coordinator
Guillermo Lozano Leo, Head of Development
Kristin Liu, Grants and Advocacy Manager
Santy Saptari, Philanthropy Manager
Angie Valenzuela, Partnerships Manager
Fred Bornatici, Head of Corporate Services
Elizabeth Nguyen, Finance Manager
Join the Team
The Biennale of Sydney is an Equal Opportunity Employer. We value diversity in the workplace.
The following positions are available at Biennale of Sydney
First Nations Fondation Cartier Curatorial Fellowship
BIENNALE OF SYDNEY
The Biennale of Sydney gathers on the ancestral land of the Gadigal people. We acknowledge all Traditional Owners of Country and recognise their continuing connection to land, waters and culture. We pay our respect to Elders, past, present and emerging.
The Biennale of Sydney is a leading international contemporary art event. It plays an indispensable role in Australia's engagement with the world, and a meaningful role in the life of the nation. The Biennale presents the most dynamic contemporary art from around the globe in venues across Sydney (and beyond) with exhibitions that ignite and surprise people, spark dialogue, cultivate connections and inspire action through meaningful, shared arts experiences. The Biennale of Sydney amplifies the voices of artists and tell the stories of our global communities, as they drive momentum for lasting cultural change.
Established in 1973, it is one of the oldest biennials in the world and the largest event of its kind in Australia. The Biennale of Sydney has commissioned and presented exceptional works of art by more than 1,900 national and international artists from more than 100 countries.
WORKING FOR THE BIENNALE OF SYDNEY
The Biennale of Sydney fosters a collaborative and respectful workplace culture, with a team as diverse as the exhibitions we present and the audiences who experience them. We actively encourage Aboriginal and Torres Strait Islander people, people from culturally and linguistically diverse backgrounds, LGBTQIA+ people, people with disability and those who have diverse experiences of our world to join the Biennale of Sydney team.
We are committed to making reasonable adjustments to provide a positive, barrier-free recruitment process and supportive workplace. If you are applying for a position and have support or access requirements, let us know in your application or by contacting the nominated person in the advertisement.
We also support a flexible working environment at the Biennale of Sydney and are happy to discuss how this role could be done flexibly. There is no 'one size fits all' approach to flexible working, including time commitments. We can work with you to rethink where, when and how your work can be done.
The Biennale of Sydney believes that art should be accessible to all. Thanks to our generous supporters, our exhibitions are presented with free admission for all to enjoy. For our employees, we provide professional development opportunities to enrich and develop your love of the arts while valuing the specific skills and experiences you bring to the Biennale of Sydney. As a not-for-profit organisation, we also offer salary packaging options.
APPLYING FOR THE ROLE
Applications marked 'Confidential' and addressing the selection criteria must be received by 5pm on Friday, 16 June 2023.
Your application must include the following:
a cover letter outlining how you meet the selection criteria;
a current CV; and
the names and daytime contacts of at least two (2) professional referees.
Email to: employment@biennaleofsydney.com.au
Subject line: Application | First Nations Fellowship
Or via post, marked 'Confidential' to:
Charlotte Galleguillos, Deputy Director
Biennale of Sydney Level 4 The Arts Exchange
10 Hickson Road The Rocks NSW 2000
Applications that do not address the selection criteria will not be considered.
SELECTION CRITERIA
Based on an application addressing the Essential Criteria, Curriculum Vitae and, for selected candidates, an interview and references, the Biennale of Sydney needs to be satisfied that the applicant meets the following criteria:
Essential Criteria
Must be of Aboriginal and/or Torres Strait Islander descent, identify as being an Australian Aboriginal and/or Torres Strait Islander and be accepted in the community

Relevant tertiary qualifications or demonstrated capability through past industry experience

Curatorial expertise in Australian First Nations Arts and Culture

Evidence of having built and continuing to maintain a strong network of local and national arts industry contacts

Outstanding presentation and communication skills with the experience and credibility to be a respected relationship builder and spokesperson

Demonstrated project management experience with particular emphasis on multitasking, management of competing priorities and deadlines, and ensuring project objectives are met

Excellent computer literacy – including knowledge of Microsoft applications, Word, Excel, Outlook, and Customer Relationship Management databases

Desirable Criteria
A keen interest and commitment to leading a self-determined approach in Indigenous engagement and representation in an international context

Knowledge and understanding of the Australian arts markets and the key players within this sector
ROLE STATEMENT
Position Title:           First Nations Fondation Cartier Curatorial Fellowship
Department:              Production
Reporting to:             Head of Production
Direct Reports:         N/A
Contract term:          Full-time fixed-term contract position until 31 December 2024 (with the possibility of extension, and an openness to discuss how this role could be done flexibly).
Remuneration range:$110,000 – $120,000 Inc Superannuation, pro rata
POSITION DESCRIPTION
The First Nations Fellow will assist in the curation of the 24th Biennale of Sydney (2024). Working closely with the Biennale of Sydney and the Fondation Cartier pour l'art Contemporain, the First Nations Fellow will consult and collaborate with First Nations communities, artists and knowledge holders to curate artworks and stories that will be presented as part of the Biennale of Sydney.
This fellowship is based in Sydney, and if reasonably feasible, includes an invitation to travel to Paris, organised with the support of the French Embassy, working directly with the Fondation Cartier pour l'art contemporain on the selection and presentation of First Nations works.
This is an Identified role under Section 14d of the Anti-Discrimination Act 1977; as such, Aboriginality is an essential requirement of the role.
The position reports to the Biennale of Sydney's Head of Production and is integrated in the curatorial team.
 DUTIES AND RESPONSIBILITIES
Curatorial
Work with the Artistic Directors and Biennale team on the development and delivery of artist projects included in the 24th Biennale of Sydney (2024)

Conduct research and provide recommendations and advice for the Fondation Cartier, including the acquisition and presentation of Aboriginal and Torres Strait artworks

Expand dialogue and foster a community of international engagement

Develop and maintain external relationships that support the successful delivery of the Fellowship

Provide administrative and project delivery support, including but not limited to researching, writing and exhibition development, including preparing and managing project budgets

Liaise with artists, artist representatives and galleries regarding curatorial research material and information required for exhibition texts, including labels, wall texts, exhibition publications and website

Programs & Learning
In collaboration with Artistic Directors, develop an innovative contemporary art program

Support the delivery of programs, activations, and events such as live performances and artist talks as required

Exhibition Management
Liaise with artists and artist studios to coordinate site visits and project research as required

With support from the Biennale Board of Directors and Deputy Director, manage cultural consultations and participating artist and community expectations with First Nations artists, knowledge holders and creative practioners

Work collaboratively with all Biennale of Sydney departments to identify and secure residency opportunities and placements for First Nation participants

Process invoices and maintain records of finances for budgets

Host artists during site visits, the installation and the exhibition period as required and provide practical assistance to artists with their projects during installation

Support artists in making strategic connections with the local community and other participating artists in the Biennale of Sydney

Budget
In close collaboration with the Production and Corporate Services team, monitor expenditures to achieve artist projects on time and within budget

Prepare invoices and accounts for payment

Provide the Head of Production with regular and accurate budget reports

Administration
Assist with office administration tasks, including preparing internal and external reports, filing and other duties as required

Assist with onsite roles during each exhibition period, as the staff roster requires

Ensure the Biennale Style Guide is adhered to across all materials and communications

Maintain Artist contacts in the Biennale's CRM (Tessitura)

Work, Health and Safety (WHS)
All staff are required to take reasonable care of their health and safety and other personnel (including volunteers and vocational placements) who may be affected by their conduct

Participate in WH&S Committee meetings as required

Key Performance Indicators
Exhibition planning is undertaken effectively & efficiently, and all exhibition deadlines are met

Work collaboratively with peers and colleagues through national and international networks to foster relationships with First Nations artists and communities, ensuring the greatest possible reach and impact.

Deepen the international engagement of Aboriginal and Torres Strait Islander cultures, stories and histories.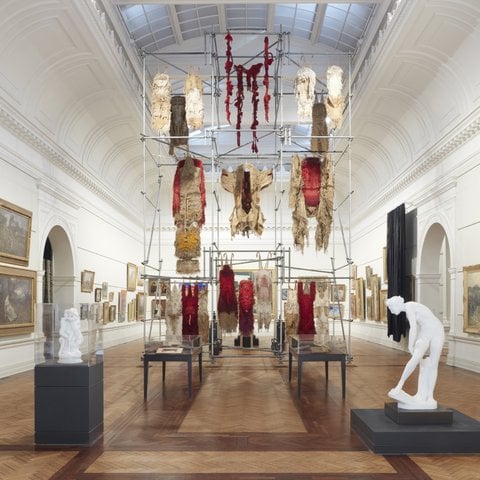 22nd Biennale of Sydney (2020) Exhibition Report
Under the artistic direction of acclaimed Indigenous Australian artist, Brook Andrew, the 22nd Biennale of Sydney, titled NIRIN, was an artist- and First Nations-led endeavour, presenting an expansive exhibition of contemporary art and events.
Download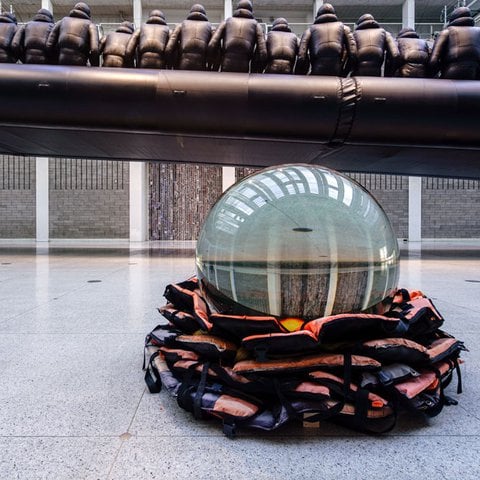 21st Biennale of Sydney (2018) Exhibition Report
The 21st Biennale of Sydney: SUPERPOSITION: Equilibrium & Engagement exhibited works from 70 artists, attracting visitation of more than 850,000 at seven of Sydney's museums, galleries and non-traditional exhibition spaces.
Download